How To Make Family Bible Study & Prayer Baskets
Have you been wanting to make Bible study more accessible and a daily habit for your family? But, maybe you aren't sure how to go about getting everyone on board, without being overwhelmed by ALL. THE. THINGS??
You might want to consider making your very own Bible study and/or prayer baskets for your family!
Here are some simple family Bible study basket ideas to help you all grow more in the Word together, without the overwhelm.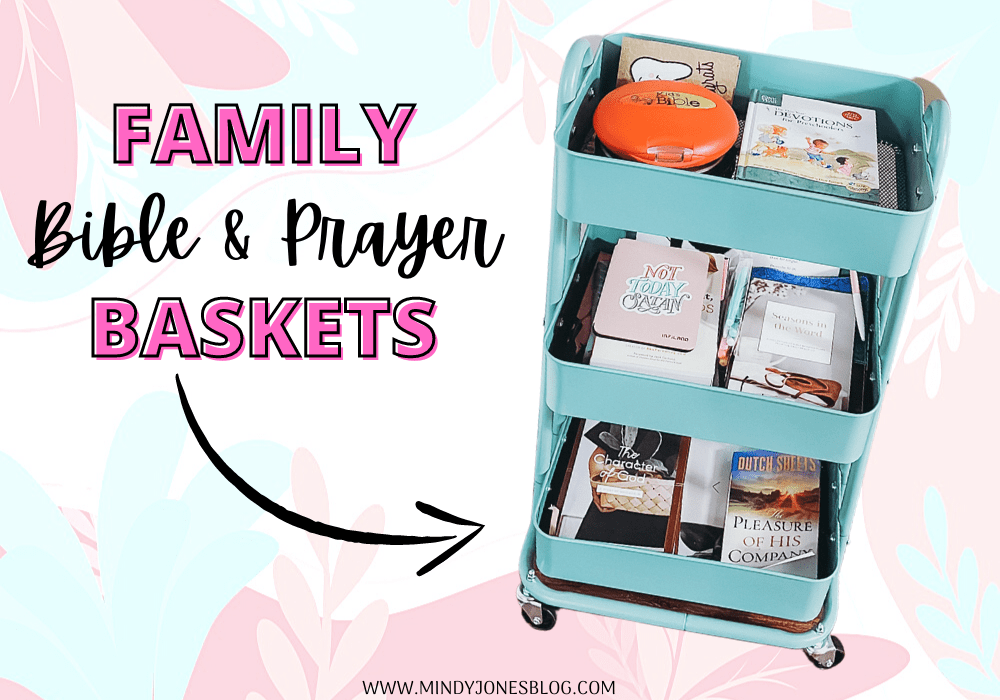 What Are Family Bible Study Prayer Baskets?
*This post contains affiliate & referral links, meaning I may earn a small commission should you choose to purchase through post links. This is of course at no extra cost to you and helps keep the blog up and running!
What exactly is a family Bible study basket? It's actually something we have been using for a long time now and it makes such a big difference in our daily routine!
It's so important to begin our mornings in God's Word, and make sure we are enjoying family Bible study time each day together.
For our kids; if they are younger we can lead them in this time and lay solid, biblical foundations for them, so that when they get older they can continue on in their daily time with the Lord.
As wives, we want to be our husband's "helper" and help encourage Him in His walk with the Lord as well.
This doesn't mean we are solely responsible but God did create us to be our husband's helper. (Genesis 2:18)
Some ways you can do this is by discipling your children during the day at home with them, and encouraging your husband to lead your family devotion time each evening!
For example, I would research different family devotionals so I can help set him up to take the lead, just as God has called Him to. It's a beautiful picture of marriage and the Gospel!
One way all of this is made easier though was through the addition of having a family Bible study corner! Each person has their own shelf filled with tools and books to encourage them.
What does that look like? Keep reading to find out…
Setting Up Your Prayer Basket Corner
Now that we know how having family Bible study baskets can help, let's see what this practically looks like.
First, find a place where you can set this up. It just needs to be a small space; we live in less than 1100 sq ft, so it can be done! 😉
Personally, we have a corner of our living room, next to our fireplace as our family Bible study corner. We have a 3 tier rolling cart, a cute prayer sign, and some other tools for prayer as well.
Some other ideas could be:
In your homeschool room, office, study, etc.
In the playroom
By your table in the kitchen
In the basement
Next to your coffee table
Once you find the space for your Bible study corner, there are a few basic things you will need to get started. I'll share what we have…
One last important tip… get your family involved in this! Let your kids help pick out what shelf they want, decorate it with stickers or name labels, etc.
Let them know that this is something very important; make it an area that is easily accessible for everyone to be encouraged in studying God's Word through reading and prayer.
Here is what our corner looks like…
What To Put In Your Family Bible Study Baskets:
So what exactly do you fill each shelf with?
Here are some ideas of what to put in your basket, your kid's, your spouse's, and a dedicated family Bible study basket as well!
1. Kids' Bible Study Basket
You can choose to give each child their own shelf (what I would recommend) or have them all share one! Depending on how many carts you need.
Here are some great tools and resources to put in your child's basket:
**Each will be linked throughout, or use the pictures to check them out!
You can also fill their baskets with fun, hands-on Bible activities like printables, coloring pages, journals, and more.
Some of our favorite Bible activity printables for kids, you can grab free from my free printables library! Here are a few ideas to fill your basket with:
Any or all of these can be accessed by your children in the morning, evening, whenever fits into your family routine!!
---
---
2. Bible Study Basket For Mom
So, you would think that the children's basket would be the toughest to fill… but for me it was my own!
It can be overwhelming with all the different options out there for study Bibles (here are some great women's study Bibles), Bible studies, parenting/motherhood books, journals, mom devotionals… see what I mean?
When I was praying and starting to get overwhelmed, the Lord reminded me that not everything has to be done at the same time.
He knows our hearts and desire to love and know Him more, and with that came this solution.
My daily quiet time routine always starts with daily Bible reading, but then I operate on a loop schedule.
What is a loop schedule??
Basically, this means rotating through the same things each day but picking up where you left off. So for example, here are the 5 books/activities I desire to do…
Daily Bible reading
Personal devotional
Reading a prayer book to pray for my daughter
Reading a prayer book to pray for my husband
Mom/Parenting reading
So let's say on Monday all I can get to is my #1 Bible reading and #2 personal devotional. This means that Tuesday, after Bible reading (that is everyday) I would move straight to #3 praying for my daughter, and so on.
That way, the most important thing is done each day which is praying and reading God's Word, but I am also making sure my family is covered in prayer and reading books to help me grow as a Christ follower, wife, and Mom.
So, hopefully that helps with the overwhelm of all the stuff out there, and here are some options for each category of what you can fill your basket with…
1. Daily Bible Reading
I'm actually loving two Bibles right now, The Jesus Bible NIV and the CSB Lifeway Women's Study Bible.
You can read about these two in detail, plus tons more study Bibles for women here + tons of great info to choose the right one for you!
You can also use this S.OA.P. Bible study method and free printable when you complete your daily reading to help apply what you have read!
2. Daily Devotional Options
Currently, I am using the monthly "Journey" women's devotional from Lifeway, but here are a few other fantastic devotionals for women to use each day!
If you like to draw or doodle, you would love the 100 Days of Bible Promises Devo Journal. For a short daily read, the Bible Promises For Mom by Heidi St. John are wonderful.
3. Praying For Your Family Books
Having books or printables to help you pray for your children and spouse is very important – we want to make sure our families are covered in prayer!
Right now, I am going through The One Year Praying through the Bible for Your Kids book – it's based on the actual date which I like because if I miss one, I just pick back up on the day it is and not worry about losing a spot!
I alternate between this one and the Mother's Garden of Prayer; it's so beautiful and covers your child head to toe in prayer with scriptures.
Here are some great prayer book options when it comes to praying for your children…
For my husband, I have been using The Power of a Praying Wife book – it's filled with short devotions and specific prayers for your husband. I've been using this since we got married, and read through it many times. It's great! 🙂
We enjoy doing marriage devotionals together, but also want to pray for each other throughout each day too!
Here are some great prayer book options when it comes to praying for your spouse…
4. Christian Growth Books
Lastly, and the one I don't get as much time to do but is still important when you can, are Christian growth books for you!
These can be anything from helping you learn about God and grow deeper in the knowledge of who He is, or books related to parenting, and being a wife and mother.
In fact, here are some must-read Mom books on my shelf currently!!
The reason I put this last on the loop is that, while books like this are great and so helpful, they are not God's Word.
It's so important to take what anyone says – a pastor, teacher, author – and run them under the light of His Word.
With that being said, here are some great books to have in your Christian Mom arsenal…
Right now I am alternating between Becoming Mom Strong and Your Finances God's Way – good stuff!
3. Bible Study Basket For Dad
This may be a tougher one, especially if your husband isn't an avid reader. BUT that's okay… honestly all he needs (really all we ALL need) is a Bible and journal to write down prayers and thoughts.
For our cart, we actually use the bottom shelf for our family shelf. He doesn't have a shelf because he takes His Bible, journal, and any other devotionals or books with Him to work.
That way, he can read during break or at lunchtime during the day. So it's whatever works best for your family!
Here are some great Bibles, journals, and books for your husband…
4. Family Bible Study Basket
This may be my favorite basket!! It's actually the least filled one hah!
This is the basket you have for the whole family – you can keep your family Bible in there, a couple of good family devotionals, calendars, or anything related to the whole family!
I'm going to link our current family devotional below – we have been loving Old Story New: Ten-Minute Devotions to Draw Your Family To God. It's easy enough for our 5-year-old to understand, but beneficial for older kids and parents as well. Very in-depth and scripture based!!
But, definitely make sure you check out this super helpful post here on the best family devotions to do together.
Plus, you'll want to take a deeper look at these more tips for creating a family Bible time each day! The main things are to pick a time, set an alarm, and be consistent!
Also, it doesn't have to "look" perfect – if you can read a passage of scripture together, pray and that's all… that's what you do! 🙂
It's so important to be individually spending time with the Lord, but growing spiritually together will keep your family unified and protected from spiritual attack, this time is SO needed!
Your kids can even use their Bible journals after family Bible time as well!
---
Make sure to check out all of our family resources HERE – books, Bibles, prayer tools, activities, and more!
---
Bible study Prayer Basket Ideas For The Whole Family
So, have you changed your mind about having a family Bible study basket? There are so many benefits to having this special corner in your home, mainly for everyone to actually SEE it and be encouraged to grow spiritually!
I pray this post encouraged you, in that it doesn't have to be overwhelming to get your whole family loving, living, and enjoying God's Word together!
Do you have a family Bible study basket? What did you fill yours with? Let me know below!