Best Study Bibles For Women Who Want To Grow In Faith
Have you been wanting to really dig in and study your Bible more, but have no idea where to start?
Like, for instance, what study Bible should you even choose? There are so many wonderful options, and having that desire is a great start.
Here are some of the best study bibles for women specifically (with real pictures!) as well as why you should definitely consider using one in your daily quiet time with God! 🙂
*This post may contain affiliate links & referral links, meaning I may earn a small commission should you choose to purchase through post links. This is of course at no extra cost to you and helps keep the blog up and running!
Why Do You Need A Women's Study Bible?
Understanding God's Word is something we should strive for each and every day. A lot of times we ask God to speak to us, or answer our prayers.
And the beautiful thing is, not only did He send His Holy Spirit to comfort, convict and guide us, but He also gave us something so special… His Word!
We actually have a couple translations and types of Bibles in our home – some study Bibles and some non-study Bibles.
It's always great to read through different versions and types, because God may highlight something to you in one that you didn't see in another.
Using the SOAP Bible study method is also a huge help in understanding and applying God's Word to your daily life, and pairs great with a trusted study Bible.
Here are a few things a study Bible includes that a regular Bible may not:
Notes for individual verses at the bottom of each page
Books of the Bible info page
Maps and charts
Timelines of Bible events
Reading plans
Cross references
Concordances
Some even include short devotions (especially women's study Bibles!)
So can study Bibles actually help you understand the Bible better? Let's find out…
Do Study Bibles Help You Understand The Bible Better?
The short and simple answer… YES!
The main thing that study Bibles for women help you achieve is to better understand the context of what you are reading.
How many times have you heard an athlete quote Philippians 4:13 at the end of a football game or some sort of sporting event?
Yeah… NOT exactly what Paul was saying when he wrote that verse, was he?
He wasn't talking about praying for strength and then God would help him win a game.
The context of that verse is him writing while in prison, and knowing what it meant to have plenty and to have little, but His strength and contentment came from Christ alone.
Context is key!!
We listed some of the main differences between a study Bible and a regular Bible earlier, but let's dig into a few of those a little more and why they are super useful to have in your daily Bible studying time.
Here are some of the key features that study Bibles (especially those for women) have to help you understand the Bible better!
1. Study Notes – at the bottom of each page you can find the chapter and verses you are reading, and sometimes it explains things that may need more clarification.
**These are NOT God's Word, simply man-made explanations, so definitely take them before the Lord first!
2. Book Introductions – this is a page before each book of the Bible that tells who wrote it, when, and some historical context behind it
3. Biography Spotlight – a place where a certain person or group of people is highlighted from the Bible to give you more insight and depth into them
4. Maps & Charts – visual aids that REALLY help you understand where they were at in that time and relate it to today. I love this part of study Bibles!
5. Concordance – this lists certain words throughout different places in the Bible; for example, a list of verses where the word "love" is found
6. Reading Plans – some study Bibles include reading plans for you to follow each day, whether it's through the entire Bible, or specific to the OT and NT
7. Blank Space for Notes and Highlighting – some study Bibles are also great for journaling and have blank spaces to write notes, important dates, and highlight as well!
My personal study Bible has little devotionals throughout that help relate what I am reading on a new level, which I really enjoy.
It is catered towards women too so it's very easy to read through that to understand a little better what God's Word is saying and how I can apply it to my life.
Most study Bibles and even some kids' Bibles have these features above, and they definitely help you study the Bible better! You can add any of these to your family Bible study baskets as well on your shelf. 🙂
How Do You Choose The Right Women's Study Bible For You?
There are so many study Bibles on the market, how do you know which one is right for you? What should you look for when purchasing a study bible?
Definitely take a look at the features we just talked about and decide what is most important when it comes to choosing the perfect women's study Bible for you.
Most all study Bibles include study notes at the bottom of each page and charts throughout.
But what other things are important to you?
Do you want a study Bible that includes helpful reading plans throughout it, to help you read through the Bible more?
What translation do you want? We prefer NIV or ESV as they are close to the original text and much easier to read through with our daughter.
Do you prefer a hard-back Bible, leather-bound, large print, etc.? One that can fit in your purse, or a large Bible?
These are just some of the things to consider along with the other features listed earlier to help you decide which study Bible is right for you,
Another thing to consider is what version or translation does your church use? It doesn't have to be a huge factor but if you are deciding between two, it may be worth looking at.
For example, our church uses primarily ESV or NIV, so when memorizing scripture ourselves or with our daughter, it makes it much easier to work on the same version together.
---
8 Best Study Bibles For Women
Now that we have looked at why you need a study Bible, how to go about choosing one, and the features to look for… let's get right to it!
Here are 8 great study Bibles for women (different versions!) who want to start digging deeper into God's Word and experience Him on a whole new level.
**Click on each to check out more info!
This is my absolute favorite study Bible I've ever had, and the one I have personally used for a couple of years now!
I love that it is catered to women, so there are lots of great little sections that relate so well to life.
It includes all the study notes, biographical portraits, timelines, encouraging quotes, charts, index, and book introductions!
Here's what it looks like in person:
It is in the NIV translation, which is what I use to teach my daughter to memorize Bible verses, so it's a great all-around pick for women. 🙂
I keep this one in my Bible study basket, and we sometimes use it for our family Bible time reading as well.
This is a very similar option to the one above, except it isn't specifically catered to women. It has a lot of the same features!
It's a great option if you are wanting a study Bible for the whole family to use together – this was the first Bible my husband and I bought together as a married couple, and we use it for our family Bible time each day.
If you prefer the ESV translation, then this is a great study Bible option for you!
It is hardcover, not leather-bound so that is something to consider! This one has a lot of the same features PLUS a sewn-in bookmark, many daily devotions, and a very extensive concordance.
The CSB is another great study Bible translation for women – in fact, I have friends who use and love this Bible!
It has great features, so if you prefer this version over the NIV or ESV, you won't be missing out at all!
It's also a great Bible to use if you are leading/teaching a small group, Bible study, or women's class.
This one I am NOT as familiar with, but after checking it out I thought it was definitely worth mentioning!
It includes some similar features such as application notes, book introductions, but also includes a "help finder" which provides easy topic references to tons of different Bible verses.
Definitely worth checking out!
---
**UPDATE: June 2022
These next three Bibles are some of my personal favoties, and ones I would recommend to ANY woman wanting to grow more in love and knowledge of the Lord!
Each one has it's own great set of benefits, and hopefully this info helps you choose the right one for you!
Here are all 3 next to each other…
This Bible is from the CSB translation, but what makes it different is it was created by the same people who developed She Reads Truth – a great Bible app and resource for Christian women!
It includes devotionals from their site, as well as Bible reading plans for every book in the Bible AND the whole year!
It includes specific instructions for using all the features such as key verses for each book, timelines, author info, and how to thank God for each book. It makes for a great study Bible option for women.
This Bible comes in a hard cover version and different leathertouch versions as well – I have the rose gold and LOVE it!
This one is VERY similar to the She Reads Truth Bible – there are many similar features but the main difference I have noticed is the font size.
This one is slightly larger, and the Bible is bigger but thinner and not as heavy as the SRT. It also has really cool character spotlights and other tidbits throughout by well-known women speakers like Priscilla Shirer, Lisa Terkurst, and mroe.
Here is a side by side comparison (well, top and bottom) of the She Reads Truth and Lifeway Women's CSB:
I love the feel of this Bible – the two tone gray make for a great grip and the teal is so bright and beautiful in person!
Lately, I have been using this one in place of my original NIV study Bible listed at #1. It has enough info in it to help me study and understand it, with a lot more added bonuses in it so I can dig deeper into God's Word.
This may just be my number one pick. Something I have learned over many years, is just how much EVERY. SINGLE. THING that is in scripture… points to Jesus.
I was saved from a young age and so it was kind of like, yeah the Old Testament is there , I know this, but as I've gotten older I'm realizing just how beautiful ALL of God's Word is.
If you are wanting to see just how Jesus is throughout and in the ENTIRE Bible, The Jesus Bible may be for you! It would be great for someone who is a new believer and just starting to read God's Word, as well as a seasoned bliever.
Here's a peak at the inside:
There is a great info page for each book of the Bible, and mutliple scripture tie ins throughout with short devotions as well. You can't go wrong with this one!
Here is a good comparison picture of #7, #8, and #9 for reference. These would be my TOP 3 picks of study Bibles for women…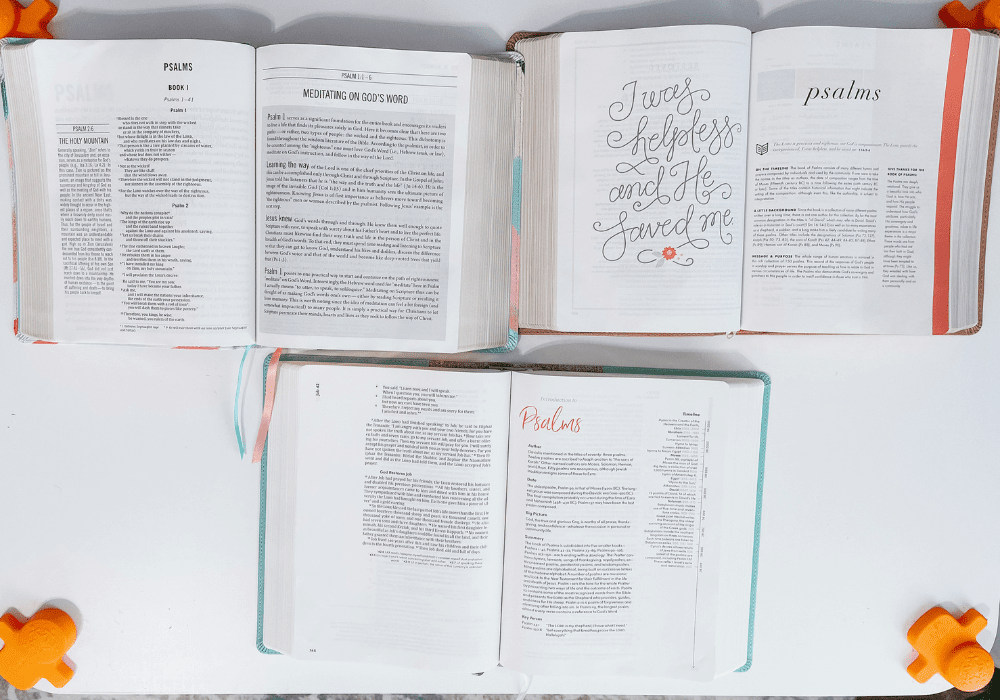 ---
Helpful Accessories For Your Women's Study Bible
Here are some super helpful accessories that can make your Bible study time more fruitful, and ultimately help you grow closer to God.
These things aren't needed – you really only need your Bible right? But they can help aid that spiritual growth!!
Here are our top picks in study Bible accessories:
Another great "accessory" to have is a good Bible commentary, for those times when you want to dig even deeper into the scriptures you are reading, further than what the notes say!
Best Study Bibles For Women
I hope after reading this you see why having a study Bible is so important, and can help you understand God's Word better and grow in faith!
Hopefully, you'll find a great recommendation from this list and feel confident when choosing one to use. 🙂
What kind of study Bible do you have? Let me know in the comments!
Want to get your kids reading the Bible too? Check out these easy, FREE Bible reading plans for kids and adults!