Daily Family Bible Time: 7 Tips to Make it Happen
As Christian parents, we have the desire to get our family in God's Word together daily… but how do we do this? What does this look like practically? I've got you covered. 😉
Here is your key to family Bible time simplified – 7 easy steps to create family bible time every day!!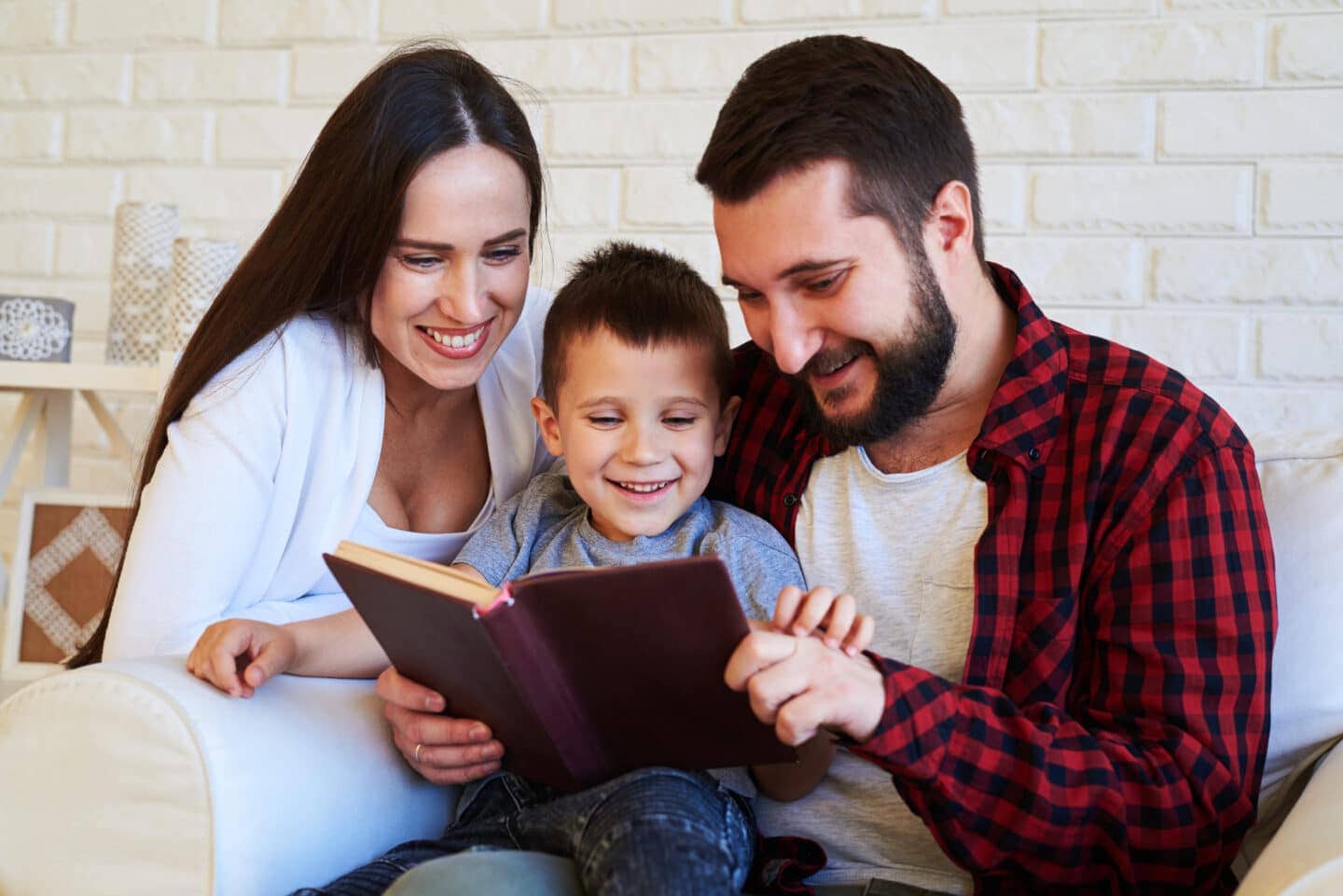 Why You Need Daily Family Bible Study Time
*This post may contain affiliate links & referral links, meaning I may earn a small commission should you choose to purchase through post links. This is of course at no extra cost to you and helps keep the blog up and running!
God speaks to us in so many different ways… one of those being His Word! That is why it is so important for us to have daily time with God, and make sure our families are too.
In fact, here are some scriptures on the importance of knowing God's Word:
Psalm 119:105 NIV – "Your word is a lamp for my feet, a light on my path."
2 Timothy 3:16-17 NIV – "All Scripture is God-breathed and is useful for teaching, rebuking, correcting and training in righteousness, so that the servant of God may be thoroughly equipped for every good work."
Matthew 4:4 NIV – "Jesus answered, "It is written: 'Man shall not live on bread alone, but on every word that comes from the mouth of God.'"
Romans 15:4 NIV – "For everything that was written in the past was written to teach us, so that through the endurance taught in the Scriptures and the encouragement they provide we might have hope."
See?
We can see from the above scriptures how we need His Word to live! It's our spiritual food. And our kids need to eat too. 🙌🏻
The Bible is where we come to be refilled, refreshed, corrected, to grow closer to God, and we want to teach our kids to develop a love for God's Word too.
It starts when they are young and getting into the Bible together as a family!
7 Ways To Have Family Bible Time:
Before we get into this, here are a few general tips for getting started with family Bible time…
Set a daily alarm for family Bible time – we talk more about what time of day is best below!
Make family prayer/Bible study baskets
Set an expectation that this is something that is important for your family, and get everyone on the same page
I've also got a free printable family Bible time mini guide – 3 short stories with questions, key verses, and prayers you can start with to get an idea. 🙂
Actually, here's a quick sneak peek at what our actual routine looks like…
See? Not too bad, right? It's simple and effective!
Now that we know the importance of having family Bible time, let's get into the practical ways to implement this and how it is actually done on a daily basis…
1. Find 30 Minutes Daily And Commit
I know our schedules can get crazy busy, especially with kids, but the first step into having family Bible time each day is to pick a time and commit. Sit down with your spouse (and even kids if they are older) and figure out what time each day you will have your family Bible time.
30 minutes every day should be plenty of time, and if the conversation is flowing well then, by all means, keep going!
Sometimes, it only takes 15 minutes – this also depends on the type of devotional Bible reading you choose!
We have our family Bible time usually right after dinner, between 5:30 and 6, so that we have time to play together before our daughter goes to bed.
You can even choose to make this a part of your kids' bedtime routine, that way it's automatically built into your day. So, say your kids go to bed at 8 each night, and you start baths and jammies at 7:30. Start your family Bible time at 7!
Obviously, things can come up that we can't control – emergencies, children get sick, family visiting from out of town, etc. But make sure to give yourself grace when things happen! Tomorrow is a new day. 🙂
The important thing to remember is to make sure you are committing to this time together as a family in God's Word each day. It's how we are fueled!
Plus, when our kids see the importance of reading God's Word, we are setting them up for future spiritual success!
SIDE NOTE: On Sundays, we usually will go over what we talked about in church and what she learned in Sunday School, and ask simple questions from that. This is usually done on the car ride home and super effective because it's fresh in all our minds!
Now that you've set a time each day, what exactly do you read during family Bible time? Let's find out…
2. Find A Solid Family Bible Study Devotional
Once you have figured out your time each night to have family Bible time, it's time to pick the devotional you are going to be reading through!
Here are some of our favorite family devotionals – personally we LOVE the Old Story New: 10 Minute Family Devotions From the New Testament as well as it's partner book, Long Story Short. It's the same but it goes through the Old Testament!
These are some great options for introducing family Bible time if you are just starting. 🙂
Another option is to pick a book of the Bible and start reading a chapter a day in your family study Bible or story Bible, and talk about it!
I would suggest starting in the New Testament with one of the Gospels, Ephesians, Hebrews, or Romans. Some great Old testament books to start in are Genesis, Joshua, or Ruth.
QUICK TIP: It's okay to read over the same scripture or story a few nights in a row.
Repetition is key with kids and it's better to go over one section more than once than it is to try and cram multiple readings in one week! Journaling can also help.
Take your time, help lead your kids through it – it's a slow and steady process, not a race. 😉
3. Discuss Key Points & Verses
Like I mentioned before, repetition is the key to teaching our kids, especially when reading the Bible together.
Pick out short, simple, and specific phrases to help them understand what it is they are reading.
For example, in my family Bible time guide, one of the stories we go over is David & Goliath. We went through and read the story and explained it all to our daughter, but the key point we wanted her to remember was, "God helps us to be brave."
Now, whenever she remembers that story she automatically associates it with that key point!
We really love the layout of our current family devotional we have been doing – Old Story New: 10 Minute Devotions To Draw Your Family Closer to God. It has a short summary or activity planned, scripture reading, summary to relate it, Q&A, and a prayer to pray.
It also pairs perfectly with on of our favorite story Bibles – The Gospel Story Bible!
(We started doing this when she was 1-2 years old. It's NEVER too early to start with the key point system!)
4. Ask Questions And Relate
Remember waaaaaay back when in school, those awful things called pop quizzes? Or worse, tests??? 😭
While they weren't fun, asking those questions helped us remember what we needed to know, right?
It's so important to ask questions after reading the Bible together with our kids to help them understand. Also, it may prompt them to ask more questions, which is even better!
Here are some examples of general questions you can ask:
Ask questions related to the specific story or passage you read
What did you learn about God from this passage?
What can you pray for after reading these verses?
What is God showing us through these verses?
It's also important to relate it back to your kids. Ask them how they would feel if they were in that situation, or what they think God is trying to tell them.
It's all about building that foundation of truth for your kids to one day have a personal relationship with the Lord. Or if they already do, to help go deeper!
5. Memorize scripture
This goes back to what we talked about with key points and phrases – memorizing scripture!
Help your kids memorize any short scriptures or stand-out verses that are easy to remember. Here are a few easy to remember verses to start with!
Pick one focus verse each week. It just isn't realistic to have a new verse every day for kids to memorize! Pick one verse for the week and repeat it daily.
It's okay to repeat the same story, key point, and scripture each night until they have them memorized and then move on to the next.
Again, it's a beautiful process teaching our kids about God's word! 🙂
For parents, go ahead and memorize a few stand out verses for you too – to help YOU grow deeper as well as your kids. 🙂
My husband and I actually use an app on our phones called Verses – it's only $5 a year and I'm telling ya, I wish I had it years ago! It makes scripture memory so much easier and I would recommend it for the whole family!
6. Journal During Family Bible Time
Take some time after reading and discussing and let your kids draw or write what they learned about! We keep notes for Sunday mornings, so why not make notes during our family Bible study time??
Here are some great Bible journaling tips for kids, as well as a printable Bible journal specifically for younger kids!
This journal is so great because older kids can use it, but it's made for kids to DRAW about what they have learned, so even toddlers and preschoolers can participate. 🙂
Here's also a free printable sermon note page you can print and let your kids use to study from – there's a version for younger kids and for older kids! Use it for family discipleship OR Sunday mornings.
7. Pray together
Last, but definitely the most important… always pray together at the end of family Bible time!
After asking and answering questions, your kids may have some things they have learned about God or even more questions. Encourage them to thank God and then bring those revelations and/or requests to Him.
Parents can pray first to set the tone, and it's a great way to teach your kids how to pray on their own too when it's their turn!
Something else you can do, especially if you have multiple children, is have each family member pray for another member of the family! For example, each person prays for the person to their right. This is a great way to deepen your family connection. 🙂
---
Get your first month of our favorite Christian kids' TV subscription, Go Minno for FREE here!
---
More Helpful Family Bible Study Tips
Now that you've gone over these 7 simple tips, here are a couple more things to keep in mind to help you achieve this each day.
This includes how to make Bible study baskets for your family (SO helpful with keeping overwhelm at bay), and one LAST, super important thing to remember!
1. Make Family Bible Study Baskets
Something we do to not only enjoy family Bible time each day, but encourage our own individual time with God is having a family Bible study/prayer corner.
We have a little section in our living room filled with all the tools needed for effective family Bible study and time together in God's Word, as well as things for each of us individually!
It's a super simple setup we made, and each of us has our own shelf. Above our rolling cart (love this teal one from Amazon) is a cute sign reminder to pray always, with our prayer cards and ABC Bible verse cards hanging up.
You'll definitely want to check out these tips for a more in-depth look at how to create your own family Bible study baskets HERE + what types of things to include in them!
2. One Last Important Tip To Remember…
One last point I want you to remember as you begin digging into God's Word together as a family… be patient and give yourselves grace!
Especially if this is all brand new to you.
God sees your desire for wanting to get your family reading the Bible together – it doesn't have to be the perfect planned out 30 minutes every day where everyone sits still and answers every question while drinking tea with their pinky out.
Kids get cranky, don't want to sit still, certain scriptures are harder to read, etc. I totally get it… and God does too!
He knows your heart, and I promise if you keep at it, He will bless you and your family in more ways than you can even see. 🙂
Enjoy Family Bible Time Every Day
I hope these tips have given you the confidence to begin family Bible time, or helped give you a guide to follow and make it a lot smoother!
Once you have built this into your everyday routine, I really believe you will see God bless those efforts and watch Him move in your home! 🙂
What are some ways that help you have daily Family Bible Time? Let me know in the comments!