9 Practical Tips For Teaching Kids About The Bible At Home
As Christians, we know that we should be reading God's Word daily, but even as adults, we struggle with this. Anyone else?? I know I do sometimes!
So how do we teach our kids how to read their Bible without becoming overwhelmed or leaving everyone feeling confused and defeated??
Let's look at these 9 super practical tips for teaching our kids about the Bible!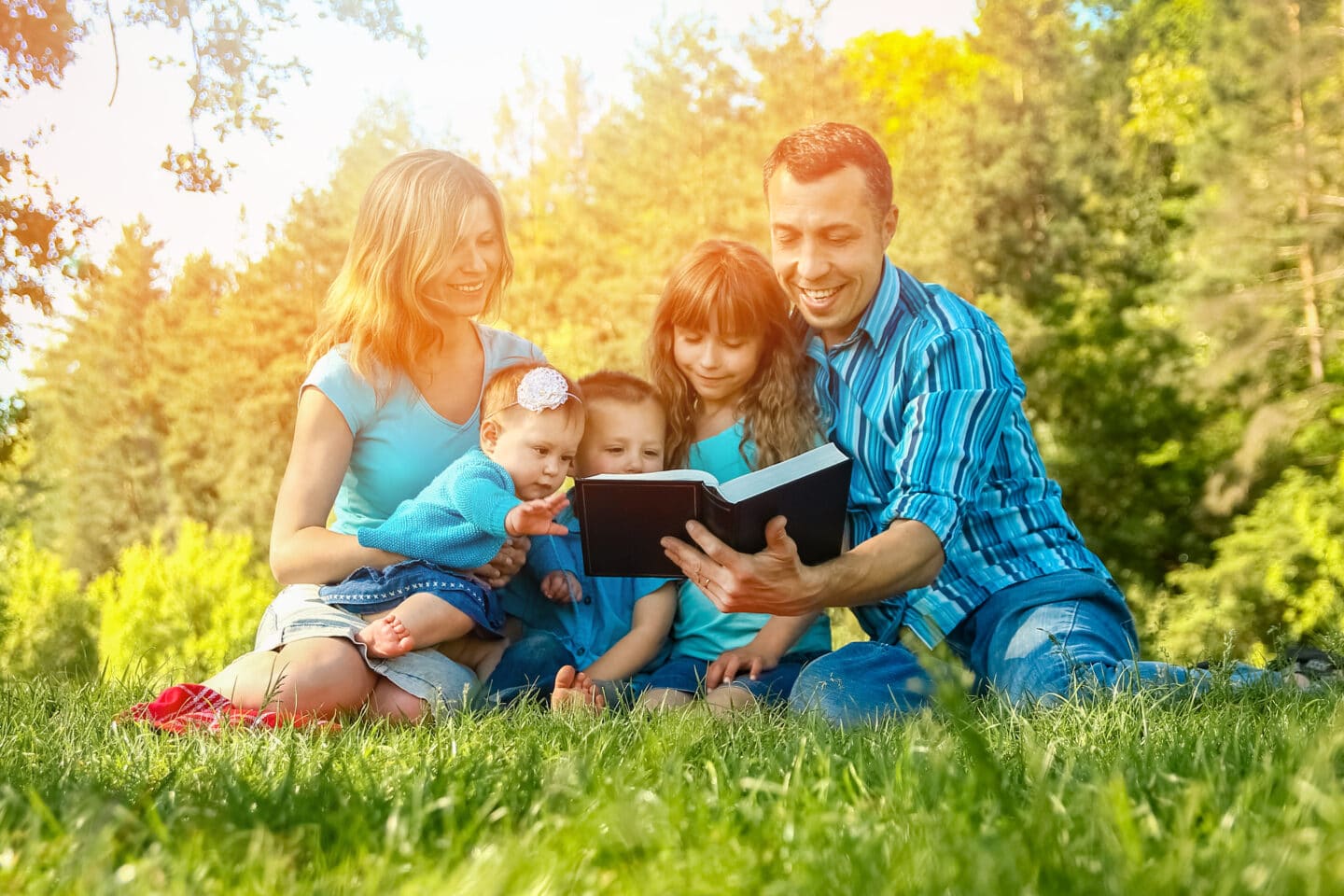 How To Teach Your Kids About The Bible
*This post may contain affiliate links & referral links, meaning I may earn a small commission should you choose to purchase through post links. This is of course at no extra cost to you and helps keep the blog up and running!
Before we get into these practical tips, there is one SUPER important point I need to make. Something that we MUST do before we can even begin to teach our kids how to read the Bible in our homes.
We must make sure that we are in God's Word on a daily basis so we can effectively teach our kids.
You cannot fill another cup from an empty jug.
We want to make sure that we are in tune with the Holy Spirit so that the word we say to our children is from Him, and not our own interpretation of scripture.
Whew! Okay, now we are ready to buckle down and get to the good stuff. Here are 9 tips for teaching our kids about the Bible at home!
1. Find A Great Story Bible To Read From
While it is great to have a family Bible, and all read together, illustrated storybook Bibles can be a huge tool in teaching our kids about the Bible!
We all know kids thrive on bright colorful images and associate pictures with words/phrases. And it just makes it fun for them, where they will BEG to read the Bible! YES!
When we do our family Bible time, we use our NIV family Bible. There are also some FANTASTIC family devotionals you can use to start getting your whole family in the Word together!
For us personally, when I'm reading stories with our daughter one on one throughout the day, or for our nightly devotional, we use our favorite storybook Bible to help her understand it better!!
Check out this post on some of our favorite illustrated storybook bibles your kids will love!
2. Start Reading The Bible With Your Kids Everyday
What better way to teach your kids about the Bible than to sit and read it with them?!
A great way to start this is to start reading your Bible in front of your kids. This can have a GREATER impact than you will ever know. Kids are very monkey see, monkey do.
Hey Mom, my friend just jumped off that slide, hmm I think I'll try too! Speaking from personal experience here – yikes!
But it's true. Kids are watching and very receptive to what's going on around them. Let them see you reading your Bible, and then encourage them to do the same.
Read together every day if you can, and you probably won't be surprised to see them starting to read it on their own too!
YOU MAY LIKE: FREE easy-to-follow Bible reading plans for kids!
3. Highlight Key Words/Phrases When Teaching Your Kids About The Bible
This may be the MOST important steps when it comes to teaching your kids about the BIble!!!
Start when they are young, teaching them key phrases and words when reading the Bible. I promise you, kids will hold on to that stuff. I know because I have seen it with my own child!
Reiterate the same points over and over so they can associate words and phrases with the Bible. This also helps when teaching your child to pray too!
Here are some examples of key verses and phrases you can use to teach your kids about the Bible:
1 Samuel 17 (David & Goliath) – God, help me be brave.
John 3:16 – Thank you, God, for loving us so much.
Ephesians 4:32 – Help me be kind to others.
My FREE Family Bible Time Mini-Guide is a great starting point to dig into the Bible together as a family! You'll get THREE done-for-you stories each with a summary, key point, questions, and simple prayer!
4. Teach Yor Kids Fun Bible Songs To Memorize
Real quick, can you name 3 songs that your kids know when it comes to memorizing and learning basic, everyday life things?? Here is a just couple…
Days of the week *clap clap*
5 Little Ducks
ABCs
Literally ANY Daniel Tiger jingle???
I think you are picking up what I'm putting down now. Singing songs is a FANTASTIC way to help kids learn more about the Bible!
How often do we hear a song on the radio and immediately start singing the lyrics? What if we could do that with the Bible too?? And teach our kids as well!
Here are some of our favorite scripture music options for kids!
We personally love listening to Seeds Family worship – they do a great job of putting scripture to song, without sounding "too kiddy." We love listening to these CDs as a family!
You can also check out these fun kids' worship songs with videos!
5. Find Relevant Bible Activities For Kids When Reading
Kids are such visual and hands-on learners. So finding super relevant Bible activities is a must to help teach them more and more about the Word!!
I've got a FREE Fruit of the Spirit Bible activity for your kiddos! You'll get over 30 pages of fun, games, and most importantly, tools for teaching your kids God's Word. 🙂
You can also access ALL the free printable Bible activities + more when you subscribe to my free printables library! A huge perk of being a subscriber. 🙂
These printable ABC Bible cards are also a great way to help teach your kids scripture!
Once you download them, you can print them on white cardstock, cut them out, laminate them (we love this pink laminator here), and then put on a key ring and take them with you around the house or out and about!
You can also try one of our favorite Christian kids' subscription boxes – Hello Bible! Read my full review here plus get $10 off your first box. 🙂
Another great, visual way to teach your kid about the Bible…
6. Watch Christian TV Shows And Movies
At some point or another, our kids have had screentime, right?? What if we could turn that screentime into Bible learning time?!
Yes please!
While there isn't anything wrong with some Little Baby Bums or Super Why every now and then (they do teach kids a LOT), our number one focus should be putting as much Bible into our kids' brains as we can!
Did you know there is a TON of options for Christian TV shows and movies? Here are 19 amazing Christian TV shows you can feel comfortable letting your kids watch and learn about God!
Most of these (and tons more) can be found on our absolute favorite Christian kids TV subscription – Go Minno.
You can get your first month FREE using this link and the best part? There's no commitment to keep it going! So if you want to cancel and not get charged, do it! Although I think you'll be hooked just like we have been the past 3 years. 😉
Here's our personal watchlist on the app:
You can also find some great Christian TV shows for kids on Amazon Prime, Yippee TV, Youtube, and DVD as well. 🙂
7. Find Out What They Are Learning In Sunday School
A good habit to start on Sundays after church is to ask your child what they learned!
Although there are lots of times they say "I don't know" or instead tell you about how so and so tooted in class and everyone laughed. Haha!
A great way to help this is to speak directly to your children's Sunday school teacher/teachers. Find out what they are learning about, and try and plan your Family Bible Time for the week around it!
Remember, repetition of a HUGE part of getting kids to learn and understand the Bible. This is a super simple way to do this, and encourage your kids to tell you more about what they learned at church!
8. Listen to God's Word
Listening to the Bible can also be just as beneficial as reading it!
This book of Bible stories has a CD included, that lets your child follow along with the words and hear the story and read it too. Win-win!
There are also tons of audiobook options for your kids to listen to. They can listen to audio Bible stories during quiet time, after breakfast, before bedtime (a GREAT way to help them calm down 🙌🏻), or during independent play!
Some great audiobooks/stories for teaching kids about the Bible are:
These are all included in an Amazon Audible subscription too… huge bonus! You can find more audiobook devotionals for kids here. 🙂
9. Always Let Your Child Pray After Reading God's Word
One of the most, if not the most important thing to remember when teaching your kids about the Bible at home… ALWAYS pray before and after reading God's Word!
When we pray, God hears us and when we ask, we receive. We want our kids to learn more about the Bible!
Help your kids remember to pray and ask God to help them understand His Word, what He is saying, and how it applies to their life too.
Need help teaching your kids how to pray? Here are 7 impactful ways to teach your child how to pray!!
Why You Should Teach Your Kids About The Bible
Whew! You made it! I hope these practical tips help you feel more confident and not overwhelmed when it comes to teaching your kids about the Bible. 🙂
You can do this Momma, and I pray your family has a renewed passion for God's Word! To help get you started, check out these free Bible reading plans for kids!
Which one of these tips resonated with you the most? Let me know in the comments!!