Simple Morning Basket Ideas For All Families
Are you looking to amp up your current morning basket routine at home with your kids?
Or maybe, this is totally new to you and you want to know all the details and why you should even have a morning basket routine in the first place?
You are in the right place! And don't worry, morning baskets aren't just for homeschooling families.
Having a morning basket has really impacted not only my child's spiritual life, but helped create consistency in our home.
Check out these super simple morning basket ideas for all families!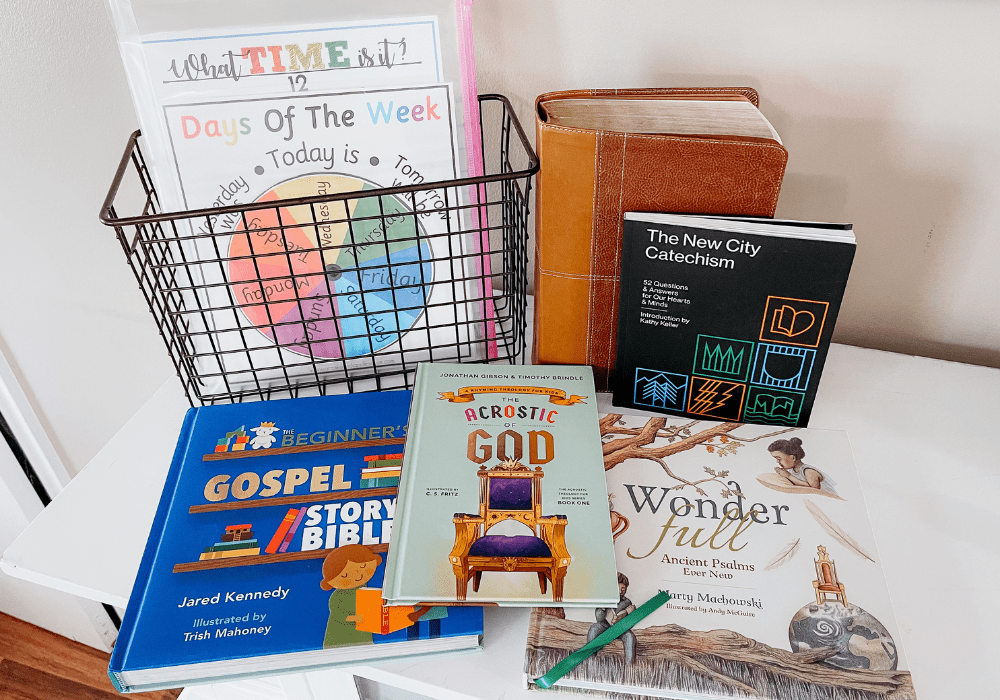 Morning Basket Ideas – EVEN If You Don't Homeschool
*This post contains affiliate & referral links, meaning I may earn a small commission should you choose to purchase through post links. This is of course at no extra cost to you and helps keep the blog up and running!
For us, making the decision to homeschool was very tough. It wasn't the fact of "homeschooling" but wanting to make sure we were making the best decision for our family.
But after many months of praying and seeking God, He answered in a way I could never imagine!
We actually found (by God's grace) a super affordable Christian school that does a partial week of in-school learning, and then I will homeschool the other two days.
It was such a huge answer to prayers and we can't wait to navigate this season of life in the fall. 🙂
Even though my daughter is technically "preschool age" we have still been homeschooling for over a year – teaching her biblical things such as prayers, Bible verses, quiet time, etc., and also educational things like phonics, writing, and foundational learning skills.
Having a morning basket is great not only for homeschooling and teaching your kids, but also for creating a consistent routine, especially for stay-at-home moms!
You don't have to be a homeschooling mom to reap the benefits of a great morning basket routine.
I want to share some ideas with you, whether you have little kids or older kids!
What Is a Morning Basket?
You may have heard of the term "morning basket" and associate it with homeschooling. It's a great way to introduce a great morning.
The great thing about having a morning basket or routine in the morning is that it doesn't have to look like one specific way.
Some people use it as more of an activity box for their kids to do independently and play. Some people have books and readings that they do.
It looks different for everyone, but for today's purposes, I'm going to share what we specifically do for our morning basket time to ensure that my daughter and I are starting our morning off in a peaceful and God-focused way!
As we get more into our homeschooling next fall, I want to keep this same routine. You can start anytime, whether your kids are little (toddlers) or older kids. It's a great time to have everyone together as well!
So our morning basket routine consists of Bible reading, devotionals, some fun poems, worship songs, and then we always end with a learning activity like days of the week and a weather game or song.
The main thing to remember is to keep everything screen-free, so your kids can focus on what you are reading or learning about.
My daughter will usually play with toys that keep her hands busy, such as magnetic tiles,.
You'd be surprised at how many times while I am reading and she's playing, she'll ask questions or say, "Hey! I know that verse!"
They are always listening. 😉
Morning Basket Toy Ideas For Kids
A lot of our morning basket inspiration came from a fellow Christian homeschooling Mom, Kristen from Arrows & Applesauce. In fact, we use some of her printable Bible activities in our morning basket!
Keep reading for more specifics on what a morning routine looks like as well as recommendations for what to put in there…
What Does A Morning Basket Routine Look Like:
So what do you kids do during morning basket time?
What does a morning basket routine actually look like? Do they play the whole time or are there times of sitting and listening?
Here are the following books and activities we aim to go through each weekday, and what she does during:
Bible reading – I read while she plays
Bible study or devotion – We read this together! Here are some of our favorite family devotions to read through.
Poems – We read together
Bible Journaling – check out this printable Bible journal for kids that we use (free for a limited time!)
Calendar/Weather – This is an interactive activity so we do this one together
End with a worship song or songs – I let her pick some songs from Seeds Family Worship, Go Minno, or any of the worship CDs we have (we love this cheap CD player here)
We don't always get through EVERYTHING – it's more about creating a consistent routine of spending time in God's Word, preparing our hearts and minds for the day, and incorporating some educational activities too.
This could take us up to an hour if we have time, but on mornings when we have our part-time schooling, we may just do a couple of things in 15 minutes or so and go on. It's so flexible!
We use just a simple wire basket from Amazon, and we also have this cute book basket too. It doesn't have to be fancy, just functional!
You can place it on your coffee table, fireplace mantle, kitchen table, or anywhere to set up your morning time.
In fact, take a quick peek at this short video to see our morning routine LIVE in action…
What To Put In Your Morning Basket
The main things you want to have are for sure a Bible, and some sort of devotional, but honestly, the rest is up to you!
Keep trying different things and changing it up if needed, to find what works for you.
Here is what we specifically put in there, as well as some alternative options to help get you started. For our ultimate list of best Christian books for kids, see this post here!
We have read through these and I am 100% confident in recommending them to you! Hopefully, you'll find some great options. 🙂
*Here is what we have in our morning basket as of today 4/2022.
If you have nothing else in your basket – or even if you don't have a basket, you need a Bible!
No other book we read, or song we listen to compares to God's Word. It is the only truth we need, and a must in your morning routine.
We usually read from our NIV family study Bible – we received this one as a wedding gift and people signed their names next to their favorite scriptures.
It was such a thoughtful gift and we use it for family devotions too!
We have been reading a Proverb or Psalm a day and it's been working really well, but you can read through any book! We usually read from either the NIV or CSB translation.
Sometimes, we will read half at the beginning while she plays, and the other half at the end of morning basket time while she plays, and then can keep playing.
*UPDATE: We were gifted a CSB kids Bible from our church, and have absolutely been loving it!
My old study Bible was falling apart and so I actually opted for the She Reads Truth CSB Bible.
Here are some other great study Bible options for women, and make sure to check out our favorite Bibles and books resource page!
We LOVE this book. It is also another one we do every day no matter how much time we have.
The Bible and this one are our musts, everything else is what we usually do when we aren't in a crunch for time.
It's 52 questions and answers about our faith, God, human nature, sin, Jesus, and the Holy Spirit, with verses to support each.
I like how it gives a full answer for each question but underlines the main point. So kids can easily memorize it, no matter their age!
For example, let's look at the first page…
The highlighted part is what we have been working on remembering, and slowly but surely we can add in more and more, but your kids can have the basic knowledge down.
So for this one, I ask "What is our only hope in life and death?" and she'll answer "That we are not our own but belong to God."
We do this for about a week and then move to the next one! There's one for each week of the year, and then you can start over and repeat.
*They have a kid's version, but we have been using the regular just fine. The main difference really is the size of it – the kids one is like mini size, but the content is shortened.
We love this entire Gospel Story series, and The Beginner's Gospel Story Bible by Jared Kennedy is a great complement to it!
**Recently, this has been an everyday reading for us, and a favorite on our bookshelf!!
It's a MUST-HAVE for younger kids, ages 2-6.
It tells different stories in the Bible from the Old to New Testament with beautiful illustrations, and questions to help relate it back to your kids.
We also substitute out for other devotionals as well like The One Year Devotions for Preschoolers.
And if your kids are a little older, maybe 6+, you can check out the original Gospel Story Bible – we have this one too and use them interchangeably!
**You can check out this Gospel Story Bible BUNDLE from New Growth Press HERE.
We always journal after reading our story as well – it helps her retain what she has learned and we can keep a record of her drawing to look back on.
Here is the printable Bible journal for kids we use, as well as some great tips for Bible journaling as well!!
My daughter has been really into rhyming words lately, and so we were reading this cute little collection of children's poems from a book I found on Amazon.
Then, I came upon THESE, and life changed!!
The Acrostic of God is a book with beautiful A-Z poems about the character of God, and are so great! Acrostic simply means "poem," and each letter has a rhyming poem about God.
This book is not only helpful in your children's spiritual growth, but can also be used as a homeschool tool and teaching your kids ABCs with the Bible.
Here are some alternate options for poems and studying the Word for kids:
You can also find all of these on New Growth Press HERE– they have great bundle deals!
*UPDATE: We have finished The Acrostic of God and have been reading through The Acrostic of Jesus now. We are loving it!!
5. Calendar/Weather Activities
As of now, this is the highlight of our morning basket according to my daughter, haha! 🙂
But it's a great start to homeschooling especially because it can lead right into what you are learning for the day.
But, even if you aren't homeschooling or are on a break from it, you can still keep days of the week and calendar time fresh in their minds.
We love these printable weather and calendar activities from Arrows & Applesauce! You can grab them here and use MINDY15 to get 15% off.
Once you download them, print, cut, and laminate (we love this pink laminator here) to put them together. So easy and less than $10!
6. Worship Music
Ending your morning basket time by worshipping through song together is a beautiful way to not only end that time but begin your day!
We love listening to our Seeds Family Worship CDs, Yancy on Go Minno (get your first month FREE here), or sometimes we'll jam to Kim Walker-Smith or Elevation Worship.
Here are some fun worship videos to watch with your kids, as well as other streaming and CD scripture music options.
Morning Basket Ideas For Families
I pray that these tips and ideas help open your eyes to beginning a morning basket routine!
You don't have to be a homeschool mom to see the benefits, because it can really help your child's spiritual growth and create some consistency in your home.
What does your morning basket look routine like? Do you have any other questions? Let me know!